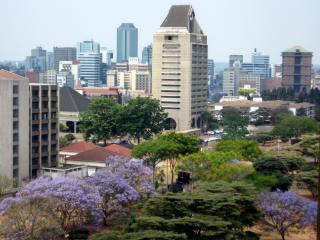 We are delighted to announce our final event, an international Symposium in Harare, Zimbabwe, will take place on the 9-10th May 2019 in association with the University of Zimbabwe.
Throughout the past year, the SUEUAA team across these cities has collected data concerning how Universities engage with their local cities, and how they work together to address city-wide challenges (such as flooding, food insecurity, environmental degradation, spread of communicable diseases, gender inequality, and migration among others), through a series of interviews with stakeholders from Universities and Local Government, and case studies. In this final event, we are inviting individuals from Universities, Government, Municipalities / Cities, and Non-Governmental Organisations (NGOs) to join us at the Cresta Lodge Harare to share good practice and current evidence as to how these connections and synergies can be further strengthened. 
As part of the event, we will have a Keynote Presentations from Dr Yumiko Yokozeki (Director of UNESCO International Institute for Capacity Building in Africa, Addis Ababa) and Professor Phil Cotton (the Vice Chancellor of the University of Rwanda). Ms Melanie Robinson (the British High Commissioner in Zimbabwe);  Professor Paul Mapfumo (the University of Zimbabwe Vice Chancellor); and Engineer Hosiah Chisango (the Harare City Town Clerk) have also been invited to address the conference.
Registration is now open for this event, and can be found by following this link: https://goo.gl/forms/YEsmxIqbW6Z0uxwI3
The call for papers can be found here.
The event is free to attend with lunch, and teas and coffees provided.
Unfortunately we are unable to provide travel bursaries or accommodation for delegates. 
Further details can be found in the document below.