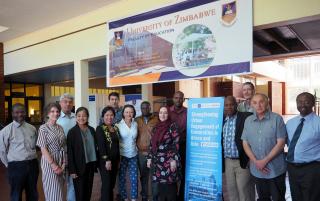 The SUEUAA project held its final partner meeting on the 8th of May at the University of Zimbabwe to discuss final outputs and reports for the project. Partners were also given a tour of the facilities at the University of Zimbabwe and met with a number of academics including the Dean of the Faculty of Education Dr Oswell Hapanyengwi. Lunch provided a useful network opportunity to share ideas and areas of common interest with a view to continuing the collaborations that have developed over the course of the project.   
Later in the afternoon we were lucky to be able to meet with Eng. Hosiah Chisango, Town Clerk of City of Harare at the Town House; who very generously gave us time in his very busy schedule to be introduced to the SUEUAA team and he was presented with a small gift from the University of Glasgow.
The following day, the two day Symposium and Workshop began, hosted by the Cresta Lodge Hotel in Harare. Delegates and partners, representing 8 countries (Ethiopia, Iran, Iraq, Philippines, Rwanda, Tanzania, South Africa and Zimbabwe) enjoyed wide ranging presentations, plenary discussions and capacity building sessions.
The event was introduced by SUEUAA partner and our host in Zimbabwe Prof Charles Nherera and the Conference was officially opened by Prof Paul Mapfumo, Vice Chancellor of the University of Zimbabwe; and, an extremely inspiring Keynote address was delivered by Professor Phil Cotton Vice Chancellor of the University of Rwanda on Transforming the African University.
This was followed by stimulating presentations from both delegates and SUEUAA partners. The first session of plenary presentations was chaired by Dr Lavinia Hirsu and contained five presentations from both SUEUAA partners and local delegates from Zimbabwe and Rwanda.[1]
Community-based participatory research: Lessons from Biryogo, Kigali City: Dr Josephine Malonza and Prof Deogratius Jaganyi, University of Rwanda; Capacity Building on Intellectual Property Rights (IPR) to Women Entrepreneurs' in Tanzania: Eugina Joseph Kafanabo, University of Dar es Salaam; The Role of Technology Incubation Centres and Science and Technology Parks in Regional Development: Kurdistan, Iran: Prof. Nematollah Azizi and Lamiah Hashemi, University of Kurdistan; Urban engagement and the role of Universities: An exploration of untapped potentials: Kudzai Gotosa, PhD Candidate, University of Zimbabwe; Strengthening Urban Engagement by The University of Zimbabwe in Agri-Food Systems, Water, Environment and Health to Prevent Cholera Outbreak: Prof Fred Zindi, University of Zimbabwe.
This was followed by lunch which allowed further networking opportunities for delegates and partners before returning for the second set of plenary presentations. This session contained four presentations and was chaired by Dr Heriel Moshi of the University of Dar es Salaam. Institutional arrangements, interventions and their implications on urban and peri-urban food security: Michelle Chihambakwe and Prof Paramu L Mafongoya, University of KwaZulu-Natal, Prof Obert Jiri, Prof Prisca H Mugabe, Dr Upenyu Mazarura, Edmore Gasura and Rose T. Masekesa, University of Zimbabwe; Making University-Industry Partnership Sustainable: Are African Universities Truly Ready? Simon Peter Ngalomba, University of Dar es Salaam; Joseph Oti Frimpong, Kwame Nkrumah University of Science and Technology; Assessment for Community Engagement Competences: Towards an effective practice-based interdisciplinary approach: Fredreck Chinyemba, University of Zimbabwe PhD Candidate; and, University Community Engagement for Child Sensitive Urban Development: Prof Chipo Dyanda and Dr Joice Tafirenyika, University of Zimbabwe.
The final session of Day one saw SUEUAA partners present case studies of their respective cites: Dar es Salaam, Duhok, Johannesburg, Manila and Sanandaj and highlighted some examples of ongoing university and city collaborations in urban engagement.
Day two of the Symposium again began with an inspiring keynote this time from Dr Yumikio Yokozeki the Director of the UNESCO International Institute for Capacity Building in Africa (IICBA) based in Addis Abba in Ethiopia on The role of Universities in promoting life-long learning in African cities, followed by a question and answer session.
This was followed by the final two sessions of presentations from delegates chaired by Dr Tendai Nhenga-Chakarisa of the Africa University in Zimbabwe and the presenters delivered the following three papers: Language Challenges in Disseminating Research Findings: A case of the University of Dar es Salaam: Peji Lunyili, University of Dar es Salaam; Indigenous Knowledge Systems: Pivotal to the Integration of Community Knowledge in University Education: Audrey Charamba, Catholic University in Zimbabwe; and, Potential of the University of Zimbabwe and City of Harare Collaboratively Engaging in Productive Waste Management through Design and Technology: Dr Peter Kwaira, University of Zimbabwe.
This was followed by the fourth and final session of invited presentations chaired by Dr Marius Venter of the University of Johannesburg and contained two papers on urban challenges faced in Harare and a third on reflections on a case study presented by SUEUA partners from the University of Kurdistan: The engagement of universities in urban agriculture is not business as usual: Prof Prisca Mugabe, Dr Emmanuel Nyahangare, Dr David Mbiriri, Sharai Ncube and Dr Venancio Imbayarwo Chikosi, University of Zimbabwe; The University's Spin-Off Companies as Accelerators in Economic Development: A Reflection on the Challenges and Obstacles: Prof Nematollah Azizi, Dr Golafrooz Ramezani, Dr Parviz Kafcheh; and Dr Ali Amani, University of Kurdistan: Emergence of red-light districts and survival in the Urban Periphery: Prostitution in the Urban Terrain of Harare, 2000 to 2019: Dr Ushehwedu Kufakurinani, University of Zimbabwe.
The final session of the symposium was a Capacity building workshop with two sessions led by partners from the University of Glasgow. Dr Lavinia Hirsu led a session on Establishing Networks and Attracting Funding; and Dr Muir Houston led a session on Research Governance and Ethics.
After a final Panel Discussion Prof Mike Osborne, PI of the SUEUAA project closed the conference with Next Steps and Concluding Remarks.
The Symposium was well reported in the local media with Professor Nherera, Professor Osborne and Professor Cotton appearing on ZBC TV News (below), ZFM Radio Station and in the Herald newspaper. 
 
---