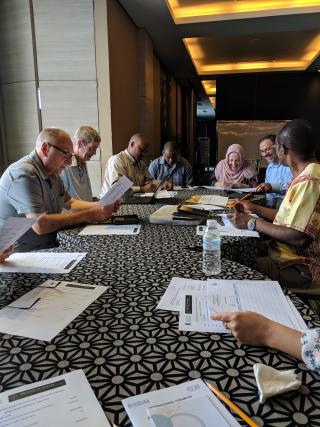 This is the first blog of our series summarising the experience of the SUEUAA team in Manila, the Philippines. The visit to the Philippines marked the halfway point in our study, and consisted of a team meeting with the international team members, a symposium for external audience from the Philippines who are interested in closer working relationships between Universities and the City, and a city tour for the team members to receive a first hand experience of some of the issues affecting Manila. 
Our working visit to Manila, Philippines, began with a team meeting. Team members from University of Kurdistan (Nematollah Azizi; Lamiah Hashemi); University of Johannesburg (Elana Swanepoel); University of Zimbabwe (Charles Nherera), University of Dar-es-Salaam (Mpoki Mwaikokeysa; Heriel Moshi) attended, and the meeting was hosted by our partner at Philippine Normal University (Zenaida Reyes).
The purpose of the meeting was to discuss the emerging findings from the qualitative fieldwork portion of the study, and also learn about the barriers some of the researchers experienced when interviewing elite members of staff from the City and University. While the city profiles are very different, and the issues affecting cities were diverse, the team were able to find commonalities in their experiences of conducting the interviews, and also in how the Third Mission of universities has been framed by University management, and experienced by city stakeholders.
The meeting also provided an opportunity for discussions on data security (in particular how to anonymise and safely transfer data over encrypted channels), and ethical practices.
Finally, there were discussions about transforming the thematic papers (currently published on the blog) into a series of peer reviewed journal articles. It was a useful opportunity for all the co-authors to be in the one place, and discuss queries and ideas over a cup of coffee rather than over a series of emails!