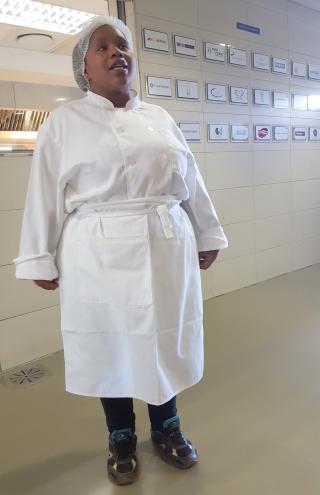 This is the 13th case study from SUEUAA (Strengthening Urban Engagement in Universities in Asia and Africa), written by Elana Swanepoel of the University of Johannesburg. This case study revolves around the personal story of Ntutuko Tshabalala who eventually trained as a chef and started the company Nubian Uju Food and Hospitality Solutions, all with the help of two University of Johannesburg urban engagement projects.
I met her at the Saturday morning Soweto Farmers Lab arranged by Dr Naude Malan of izindaba Zokudla and requested that she writes her story.
The narrative in the attached is her own, passionately written and providing context of her upbringing, her inner growth and the opportunities which enabled her development. It is so openly and honestly written, and I have have done only minor editing not to lose the passion. When we are involved in urban engagement, we need to acknowledge the person that is benefiting from the engagement. That is very evident from this story. She is not just a number who benefited, but a person who has been transformed and this transformation will circle out to all those with whom she comes into contact.
It all started during a session of the University of Johannesburg's (UJ) iZindaba Zokudla – Conversations About Food at their Soweto Campus, one Saturday morning when Dr Naude Malan introduced us to Caroline McCann from Slow Food, Slow Meat and Braeside Butchery. She gave a presentation about the Slow Food Revolution and told us of an exciting event which was to be hosted for the first time ever in Soweto – The Soweto Eat In.
So, when did I fall in love with food and hospitality? From as early as I can remember, being raised by my grandparents, Mbuso and Thoko Tshabalala, an ABI who worked as a sales consultant and a domestic worker, respectively, but moonlighted as entrepreneurs to make ends meet and support their extended families. It was in early 1984, that they opened their first General Dealer in Rockville, Soweto. Soon after another shop was opened and so began the empire that I was born into. Growing up in a family where we all participated in the daily running of all the businesses, meant that my childhood was anything but normal. Early mornings and late nights, we all had to contribute. 
Being a village boy at heart, my grandfather had longed for a haven close to Soweto that he and his family could settle down, away from all the hustle and grind of the Township. He purchased a plot on an agricultural holding in Westonaria called Zuurbekom. This place was perfect for a young and adventurous child who had energy in abundance – 2½ hectares of land with so many possibilities of growing fruit and vegetables. 
My grandparents were hosting events, social and family gatherings monthly on our plot and with every event they ensured that they never cut corners. From the food and catering to entertainment, our family had a natural flair for providing our guests with legendary experiences. It was those values of taking exceptional care of people and always doing things wholeheartedly that planted the seeds that would later grow into this unconditional passion that I have. Being perfectionists, my grandparents made sure they had the best chefs, entertainment and mobile bars. Everything else was done by the family. My grandparents made sure that we owned anything and everything needed to host big or small events. They owned about 10 different sustainable establishments, including butcheries, general dealers, fresh produces stalls, fast food stores and even a wholesale establishment.
In 1993, my grandfather passed away and I was a 9-year-old battling to cope with the loss. I wanted to do something that was going to have a good effect on people, that would make them smile. I decided to cook and bake for my family when they were at work or at the shops. Sundays were my favourite days because I had the kitchen to myself and I could experiment. I was 9 years old when I opened my first cookbook by one of my idols, Chef Dorah Sithole. A Taste of Africa became my favourite book not only because of the author, but because it represented dishes that inspired me to cook as well as the women in my family. Most important it represented my heritage. This book not only helped my find my way around the kitchen, but also embraced the beautiful land that I come from. 
I have always been a creative soul who dabbled in most things that require one to use their hands. Although I have found myself working in different industries, the kitchen has always been my first love. I went from cooking for family, to cooking for friends and the community and have often found myself being exploited all in the name of cooking. My parents decided to enrol me in what was then known as the Holy Family: The Industry Connection (T.I.C) programme which was a 10-month long intensive programme designed to not only be a bridging course into the Food and Hospitality industry, but also to provide participants with entry level skills. This programme changed my entire perception of the industry and introduced me to the world of celebrity chefs, food entertainment and most importantly how the entire industry connects. When I graduated with the second highest theory marks, I was never prepared for the reality of not being able to enrol in a decent training programme. So once again, I found myself working for the family business as a Personal Assistant to my mother. I eventually moved to the banking industry as a personal loans consultant and then moved to the healthcare and hygiene industry as New Business Developer. I did not last long in corporate South Africa. The recession hit and I was one of the thousands of people who was retrenched.
Again, I found myself back at home helping wherever I could and caring for my loved ones. Once again, I found myself cooking and baking for family events and I started booking jobs as a freelance chef through word of mouth. Freelancing had its advantages, but the disadvantages were enough to break anyone's spirit. I was finally motivated to register my own company after I decided that people were only going to take my business serious if I did. I was losing out on numerous opportunities because my business was not a formal business. The last thing I wanted to do was to ride on my mother's success as an entrepreneur. This was something I had to do, not only for myself, but also to build a legacy for my own children. While registering my company and exploring options that are available to start-up companies I did a wedding cake course to grow my client base. I had catered for funerals, weddings and large gatherings and craved new experiences. In June 2015, my company Nubian Uju Enterprise was registered, trading as Nubian Uju Food and Hospitality Solutions. The core focus is Food and Catering, but the plan is to branch out within the hospitality industry and establish my brand by providing "Legendary Experiences".
The farming never stopped. No matter how small the portion of land, we always had fresh produce. Staple crops were maize, spinach, pumpkin, tomatoes, chillies and beetroot. Working the land was mainly about producing fresh vegetables that I could cook for my family but also share with friends and neighbours. One thing that was clearly missing was finding a link between farming and food preparation. This changed when I started attending Uj's iZindaba Zokudla – Conversations About Food – an initiative facilitated by Dr Naude Malan. 
The concept behind this is initiative is to empower urban farmers by helping them create sustainable food systems. In a short space of time, I was introduced to the world of agro-processing and I started networking with other urban farmers and agro-processors who helped to mentor me on the basics of farming. Dr Naude Malan proved to be of great value to my initial concept of using what I already had in terms of knowledge and resources to preserve my heritage. Attending various sessions of iZindaba Zokudla and other workshops facilitated by other organisations helped to motivate me to work on designing my ideal garden. Being a part of the food processors day gave me an opportunity to also show case what I could and helped me to identify other options I have as a farmer. 
On 15 May 2016, Caroline McCann and Dr Naude Malan introduced the Soweto Eat Inas an event hosted by Slow Food and Slow Meat. iZindaba Zokudla was invited to work on this event and I remember being one of the people who had their hands raised up high, bursting with excitement. The whole concept of "Good, Clean and Fair" food resonated with me especially because I believe in knowing where my food comes from and how it is produced. Of all the elements of the Eat In that appealed to me, the one I knew I had to be a part of was the competition. Fifteen farmers and food processors initially signed up to be a part of the iZindaba Zokudla Chefs team that was competing against some of the top culinary schools in Johannesburg. Through the guidance of Caroline and Dr Malan, the Soweto Chefs team started taking shape. Once we had all the details of what was expected of us, we had to develop recipes and an action plan for competition day. One of the first things we had to do as a team was determine who was going to be part of the actual team of six on competition day. The meat cuts that were selected for our team were Brisket (Prime cut) and Bone Marrow (Offal). 
I was selected to be the team captain for this prestigious event which proved to be a whole lot more than I could have ever anticipated. My team consisted of fellow farmers and agro-processors who truly were a force to be reckoned with. One of the woman I worked closely with was Mama Matshidiso Hermina Sekgothe. Director of Rejaborotho, a company that manufactures atchaar. During the planning of our recipes we decided to include one of her vegetable atchaars in our Bone Marrow Kota. I was truly inspired by Nthabiseng Thebehae, a woman with many talents. She is a singer, fitness instructor, former train driver, chef and entrepreneur fondly known to her community for her selfless deeds of providing a soup kitchen for the less fortunate. Nthabiseng founded a Non-Profit organisation in Orange Farm called "Maengele A Tshepo" Community Centre (Angels of Hope). Her organisation promoted healthy lifestyle within her community by hosting aerobics with the elderly in the mornings and some afternoon classes for the younger people, she saw a need for establishing a food garden to help the community. This is what motivated her to attend Farmer's School Workshops through iZindaba Zokudla. 
Together with three other ladies (Busisiwe Radithalo of Bophelo ke Lefa Agricultural Emporium, Constance Seletshoge of Signature Food and Catering Events and Mpumi Ndlovu of Out of Passion Caterers Trading and Projects), by the intervention of Caroline and Dr Malan, we were referred to Chef Elsu Gericke and her team at the South African Chefs Association Centre for Culinary Excellence (CCE) at the University of Johannesburg Bunting Road Campus. Under the guidance of the UJ CCE team, we were not only able to prepare for the Soweto Eat Inbut also have a trial run of our proposed menu. I consider myself to be highly favoured to be mentored by Chef Cassy and Chef Yenja and their support staff. Test Kitchen days were limited, however that did not stop the Soweto Chefs team from getting the job done. Whether it was sourcing ingredients from our own organic gardens or learning technics from the UJ CCE team or working under an enormous amount of pressure, we managed. My team and I can never thank the UJ CCE team enough for helping us bring our vision to life. Coming second place on competition day was truly a great milestone for all of us having broken new ground. Our efforts did not go unnoticed and the South African Chefs Association invited all the iZindaba Zokudla Chef Teams to apply for their Enterprise Development Programme (EDP) 2017 cohort. This was an opportunity for which I had previously not qualify as a freelance Chef. Who knew that taking the necessary steps to empower myself and networking with relevant people could open so many opportunities and help get closer to realising my dreams?
After attending the various application processes and submitting all required registration documents, on 30 March 2017, we were invited to attend the launch of the Wilmar South African Chefs' Association (SACA) Training Academy, known as the Wilmar Excella West Rand Centre for Culinary Excellence. Two weeks into the 6-month incubation programme, I am already in awe of what is still to come. The fact that the centre is based in a community that is closer to home means that I have more time to plan and work on my business model. This programme is not only about acquiring professional cookery skills but for my company Nubian Uju Food and Hospitality Solutions it means acquiring the necessary tools to help me build a sustainable company. Equipped with Excella EDP, my passion and the correct mindset, I know that I can take my company to greater heights and build an empire that will make my family proud. When I was given the opportunity to be a part of the South African Chefs Association Enterprise Development Programme, I thought it was going to be as simple as attending all my classes for months and doing whatever was needed for me to graduate.
I soon realized that the path leading to graduation day was anything but simple. By the time we had reached the halfway mark of the programme, it was clear to me that if I wanted to remain relevant in this industry I was going to have to do more than just cooking and baking. I needed to have something that was going to set me apart from every other Township Caterer. I wanted to do more than just cooking and baking for weddings, funerals and celebrations. With so many talented caterers and cake artists out there, I had to make sure that whatever my plan was post-graduation it had to be something big. The only way I was going to get that right is if I made sure that I immersed myself completely into every opportunity the programme had to offer. This mainly included working for experience and capitalizing on every networking opportunity available. 
Working very closely with my mentors, lecturers and sponsors meant that I could maximize networking opportunities and get a chance to engage in different aspects of the industry. I never imagined that I would get so much joy from working at food and hospitality events; learning the basics of how it all comes together; ensuring everything runs smoothly and the importance of working under extreme pressure. All this contributed to my training and development.
For years I had thought that the most rewarding part about being in this industry was providing legendary food and hospitality services. That all changed when I started working as technical support at food expos and competitions. It was a rush and a thrill to make sure consumer educational demonstrations are on point or ensuring that the show goes on regardless of all the hurdles and working with culinary arts students from various age groups. The greatest reward is learning and sharing information and experiences with chefs from all walks of life who have different levels of experience.
Post-graduation I decided to focus on nurturing my passion for training and development. I still did a lot of networking and tried to get many work experience opportunities no matter how big or small the event was. Inspired by the likes of Chef Tshepang Mabe, Chef Basetsana Mphelo, Chef Given Mulaudzi and Chef Kabelo Segone. I put myself out there working early mornings and late nights, anything to work with Champions who I believed embodied what I wanted to do in this industry. If I could be half as good as all these chefs put together I knew I could change people's lives.
Armed with just a vision of what I want do and where I wanted be, I found myself working at an event at Monte Casino as a studio kitchen manager. It was during one of the live cooking demonstrations that I happened to be walking on stage to pass the chefs some ingredients they needed for the demo and indirectly became a part of that demo. Marina from Lamb and Mutton SA was watching that interaction between the three of us and later on decided to invite all three of us to be band ambassadors for Lamb and Mutton SA, also known as the Lambassadors. Never did I imagine that this would be my big break. Just what I needed to give me that extra boost of confidence and it was great working with two talented female chefs. As a trio we worked at the Fire and Feast Meat Festival 2018 Lamb and Mutton SA Studio Kitchen alongside John "The Bearded Chef SA". Later in the year, the Lambassadors Chef Naledi and myself worked at the Soweto Kota Festival 2018 and we won 3rdplace with our clean Kota menu.
After doing so well at the Kota Festival, I was approached by Chef Elsu Gericke to teach two practical classes a week at the SA Chefs Westrand Centre for Culinary Excellence in Randfontein for the Red Meat Industry Forum (RMIF) Youth Empowerment Programme (YEP) for nine weeks. If there is one valuable lesson I learned from Chef Elsu, it is that you can get a lot of opportunities that can open many doors for you, but the most important part is what you do with these opportunities. You can stand at the door or peak your head in, but the most important part is walking through those doors and giving that opportunity your best! Teaching the RMIF YEP students was not only a great honour, but one ground breaking step towards becoming a culinary arts lecturer.
I have still much to learn but I look forward to growing in more ways than many as a teacher/ mentor and as an entrepreneur. I'm constantly looking for various opportunities that will allow me to do so and I can honestly say that had it not been for Dr Naude Malan and the Izindaba Zokudla team I would not have progressed as much as I have. I have a lot of work that I must still do and so much I wish to achieve and I hope my journey can inspire others.  
Lastly, with a lump in my throat, I would like to thank the following people, Dr Naude Malan and iZindaba Zokudla, Caroline McCann, Slow Food and Slow Meat, Chef Elsu Gericke, The South African Chefs Association and Centre for Culinary Excellence. To our EDP sponsor Wilmar SA/ Excella, may the WRCCE go beyond being a training academy and change people's lives. Thank you for providing us with such a great opportunity. 
Chef Ntuthuko (Thuthu) Tshabalala 
Nubian Uju Food and Hospitality Solutions
Director