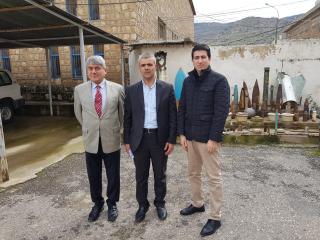 In our fifth case study, we highlighted the development of work taking place at the University of Duhok with regards to  building collaborations with organisations to develop a regional mine action strategy for areas affected by cluster strike and other battle areas. Last year, Professor Mosleh Duhoky stated:
This represents a potentially rich possibility for the university to enhance its engagement with the its wider community in order to contribute to the development of city and wider regional infrastructure. Work within the SUEUAA project will help facilitate that objective".
This year, there has been an agreement between the University of Duhok and the Duhok General Directorate of Mines Action. In a conversation with Mr. Hasan Hussein Ali, Deputy General of Administration and Finance at the Duhok General Directorate of Mines Action, he states that due to the work conducted in Duhok during the SUEUAA project that:
1. This is the first time through this project we establish a working relationship with University of Duhok

2. We are in he process of establishing research collaboration with University of Duhok with the effect of landmines in the Kurdish region of Iraq on society, health, safety, environment, agriculture, tourism and economy

3. We have a plan to discuss with University of Duhok to establish an institute of landmine education
We wish the University and their city partners well wishes as they embark on this new collaboration.