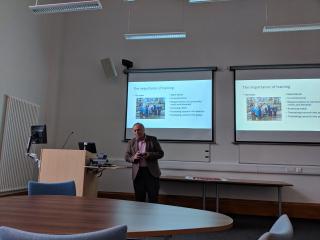 The Strengthening Urban Engagement of Universities in Africa and Asia (SUEUAA) project team involves academics from six cities in the Global South: Johannesburg (South Africa), Dar-es-Salaam (Tanzania), Harare (Zimbabwe), Manila (Philippines), Sanandaj (Iran), and Duhok (Iraq); and one city in the Global North, Glasgow (Scotland).  At times this blog will highlight incidences where the team members were offered the opportunity to give presentations, lectures, seminars, in order to highlight the public engagement work of the team.
On 18th June 2018, Professor Osborne was an invited speaker at a workshop entitled "equality as an endpoint: learning, training and the global pathways to inclusive development". This interdisciplinary workshop, held at the University of Glasgow, brought together perspectives from international policy makers and academics on effective learning and training for sustainable socioeconomic development of populations globally. Mike spoke about the substantial amount of work the School of Education at the University of Glasgow was involved in which sought to develop understandings on the overlap between global issues and skill development in the international arena. 
With reference to the SUEUAA project, Mike highlighted the importance of not only looking at the purely economic reasons behind Universities engaging with local communities, but rather at the environmental and social benefits of this engagement and therefore the role Universities can play in developing sustainable cities. 
A copy of the presentation given in the workshop can be found below.